The course is mostly on trails and dirt roads. For details, please follow the links provided below:
Kauri Half Marathon (First 23km of Marathon 1 of the 3M3D Race)
Terrain: Bitumen, dirt roads, single tracks
0km – 5.5km: Outside the Kuranda Information Visitor Centre on Coondoo Street in Kuranda – over the bridge at the railway station – right onto "Jungle Track" – left into Barron Falls Road (bitumen) – Wright's Lookout.
5.5km – 21km: McDonalds track (4.7km) (dirt road – right onto Douglas track (2.45km) (single track) – left onto Gandal Wandun track (1.5km) – left onto Smith's Track – Stoney Creek crossing (1.5km) – Toby's Lookout (1.6km) veer right – Stoney Creek crossing – the Yalbogie track (past the Kauris) (860m), at Cadagi Corner veer left (stay on the forestry track, don't turn off into the bushes!) (2.7km) – Smith's Track Checkpoint
21km – 23km: Right onto Smith's Track (1.1km) – left into Djina-Wu Track (765m). When you come off the track onto the bitumen at Speewah Campground Checkpoint* you are at the END OF THE KAURI HALF MARATHON.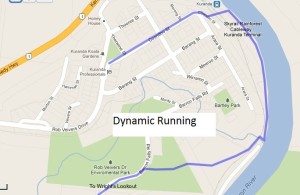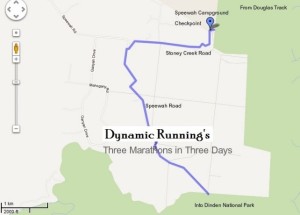 The Kauri Half Marathon ends at course marker 10.