In its 12th year, the Cairns Marathon race starts on the Atherton Tablelands and finishes in Cairns.
Date: Sunday, 9 July 2023
Length: 42.2km
Event Organiser: Dynamic Running Ltd.
Race Director: Lorraine Lawson
Email:
Mobile: 0417 798 444
Other details specific to the Cairns Marathon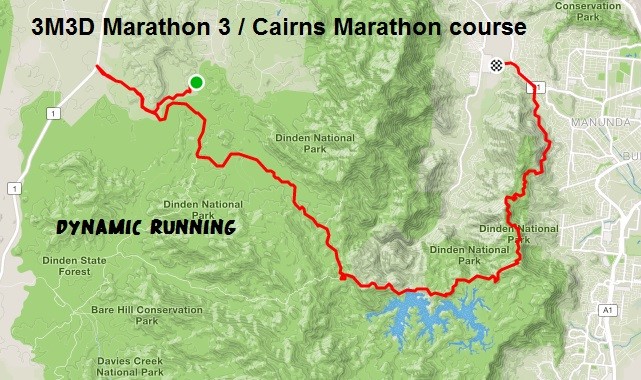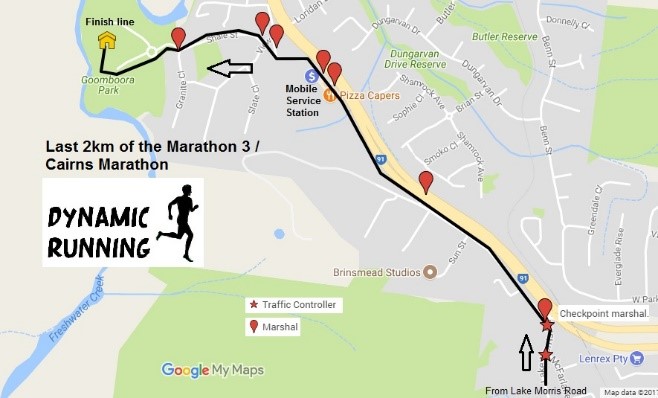 In Brief – here is a brief summary of the event
Terrain. ½ dirt road; ½ bitumen
0 – 12km. NOTE for past competitors. There is a course change here! Clohesy River Road (at the first creek crossing) along Cedar Park Road to the turnaround. When you get back to Clohesy River Road turn RIGHT and run up to the turnaround close to highway – Clohesy River Road – Fig Tree loop
12km – 25km. Fig Tree – Clohesy River Road – gate – Copperlode Dam Checkpoint
25km – 40km. Lake Morris Road (bitumen) 5km climb before a long descend down to the base of Lake Morris Road – left – cross road onto bitumen footpath alongside Reservoir Road.
40km – 42.2km. Follow footpath and cross over the service road, run past the Mobile Service Station. Left turn into Christies Drive. Cross over View Street. Follow Shale Street down to Goomboora Park. Right turn into Goomboora Park. Follow footpath to the finish.