Do you want your name on our Honour Board? This is how you get it there!
Bib numbers for the 3M3D Grand Slam are allocated according to loyalty to the event. Your overall cumulative race time also plays a part.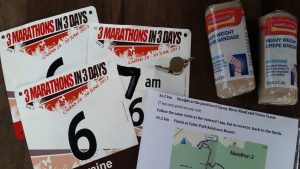 Once you have done five 3M3Ds, you get a permanent bib number and your name is added to the honour board. To date, numbers 1,2,3,4 and 5 are gone! This year we have #6 and #7 up for grabs, as long as Bernie and Pam finish the race.
The current numbers below (bar #1-5) will change depending on who registers for the race this year. The bib numbers will be updated closer to race day. For example, Sharon and Fayola have each done two 3M3Ds and they back for their 3rd this year, potentially they can be allocated bib numbers 15 and 16, but it will depend on whether some other past participants register again this year. So potentially they can still end up in the top 20 on the honour board.
Yearlings are those competitors who have completed one 3M3D. Their bib numbers will be allocated according to their race times. At this stage, they are just numbered so we can keep track of who has been in the race before.
Newbies are new to the 3M3D Grand Slam event. Their bib numbers are allocated according to the date they registered. Their bib numbers will be updated to slot in behind the Yearlings.
For the third marathon, bib numbers change (EXCEPT for those who have permanent bib numbers and those who are going for their permanent bib numbers). Numbers are reassigned based on cumulative race times from Day 1 and Day 2. The reason for this is to make life a bit easier for our volunteers andalso for any media coverage at the finish line.
The Cairns Marathon, Kauri Half Marathon and Lake Morris 16km numbers are allocated according to the date the participant registered. These will be updated closer to race day pending any cancellations.
Yearling 3 Pauline Overington
Yearling 4 Douglas Kenealy
Newbie 5 Prue Chellingsworth
Newbie 10 Robert Centonza
Newbie 14 Sarah-Jane Marshall
Marathon 1 and Marathon 2 only
Cairns Marathon
Kauri Half Marathon